Twitter rolls out reply-limiting feature globally
Initially introduced as part of a test to Twitter users in May, the platform is now rolling out its reply-limiting feature globally as part of its efforts to give people more control over their conversations. After composing a tweet, users will be given three options to choose who can reply. 
 If a reply is limited, the reply icon will be greyed out for anyone who's not allowed to reply, however they are still able to retweet, retweet with comment or like the tweet. According to Twitter's research, people who had access to the feature felt more comfortable tweeting as they felt more protected from spam and abuse. Everyone can now access these settings on Twitter on mobile and desktop.
Google launches virtual visiting cards
 If you're a business professional, performer or anyone who wants to build an online presence, chances are you have a website and is active across social media. However, the information about you could be scattered across sites and people cards were developed to solve this problem. With this new feature, it makes it easier and quicker to locate someone on Search, where the cards highlight a user's existing website or social profiles and other relevant information. For people who share the same name as others, you will see multiple modules that can help you distinguish from others. Only one card is allowed per Google account and a phone number is required to authenticate your account.
Pinterest updates its inclusive beauty search feature
With millions of people searching for beauty inspiration, Pinterest's beauty category has become one of the largest on the platform.
The platform has announced several updates to its skin tone ranges and the addition of new brands to virtually shop and try on lipsticks through AR Try on. Pinterest's inclusive beauty results search feature has now been improved to bring up options from search results. The platform has also seen technological improvement and is now three times as likely to detect multiple skin tone ranges in its top search results. The updates make Pinterest a more inclusive place for different people to discover and shop for beauty ideas that really represent them.
TIKTOK IS BANNING DEEPFAKES
TikTok is establishing new moderation policies to better protect its platform against misinformation and other forms of manipulative content ahead of the 2020 U.S. election.
Deepfakes, mostly associated with face-swapping videos, are artificial intelligence-powered manipulations of audio and video designed to mislead people about something someone might have done or said. In addition, TikTok is also cracking down on its ban on "coordinated inauthentic behaviour", which involves the use of fake and bot accounts to mislead people about the identity of the account holder with the purpose of trying to sway public opinion over hot topics.
Virtual 3D fashion show breaks the internet
Anifa Mvuemba, founder of fashion label Hanifa, was looking forward to holding her first runway show at New York Fashion Week this year… but the pandemic happened.
 Instead, she streamed a ground-breaking virtual fashion show on Instagram Live, in which each garment appeared in 3D against a black backdrop, as if worn by invisible models strutting across a catwalk, with the garment hugging every curve. The striking fashion show was watched by many worldwide and has created buzz around Hanifa's new collection, thanks to its high-tech approach.
Viral TikTok video bewilders the internet
Remember 'The Dress' and 'Yanny vs Laurel'? There's a new debate in town. A video has been making its round on TikTok, featuring a voice uttering either 'brainstorm' or 'green needle', depending on who you ask.
The video originally circulated in 2018 and has since resurfaced on TikTok this week, attracting more than 7.5 million views, with listeners divided on the sound they hear. Unlike the previous illusionary videos, this video relies entirely on the listener's focus, where the sound one hears depends entirely on which phrase they are thinking or reading at the time.
The world's first socially distanced concert
A UK artist Sam Fender had an outdoor concert in Newcastle, England this week, which possibly set the record for the "world's first socially distanced gig".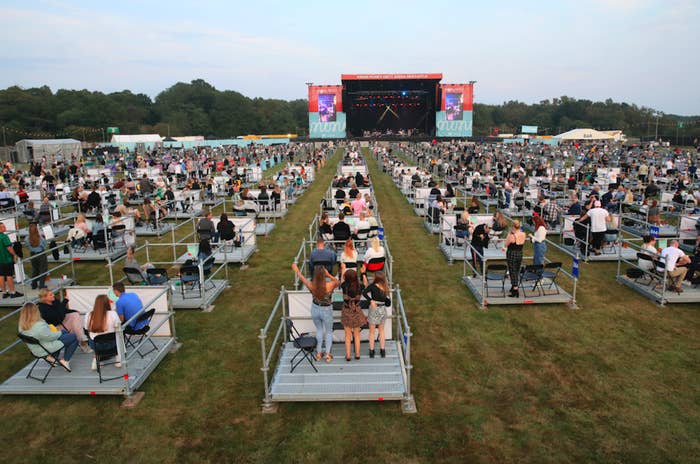 In a series of photos from the concert, the attendees were spotted drinking beer and wearing masks – you know, the new normal. Each group had their own separate, socially-distanced pods, limited to 5 guests per pod. As if a global pandemic could halt our passion for concerts and raves.
Viral TikTok hack on removing stains from Tupperwares
You store some food in your Tupperware and when it's time to clean it, the leftover residue leaves the container a greasy mess and stains it a gross permanent reddish-orange colour. If this sounds familiar, you need to check out this viral TikTok hack on removing stains from Tupperware. It's incredibly simple too – all you need is some dish soap, warm water and paper towels. Simply toss them all into the container, give it a good shake for a minute and your container will come out as good as new!