Check out the weekly buzz on our favourite social media platforms, including new features and what's trending!
4 New Social Updates
Facebook tests new Pages design without "Like" count
Facebook is testing a new design for Facebook Pages which come without the "Like" count and "Like" button. The test is being conducted with a group of public figures, including actors, authors, bands and creators, as well as a small percentage of English-language business pages. The new design is said to offer a cleaner and more intuitive layout, which makes a Page's bio, posts and other information more accessible. Pages in the test group are also getting access to a new News Feed which makes it easier to see what others are sharing and join conversations, with features such as commenting and posting across Facebook as a Page.
Instagram rolls out Shop section in Explore
Instagram is moving ahead with the rollout of its Instagram Shop feature, creating a place for users to shop from brands and creators within Explore. Later in the year, Instagram also plans to add a new Shop tab in the navigation bar so users can get to Instagram Shop in just one tap. All purchases made with checkout will be powered by Facebook Pay, which will roll out within the next few weeks in the U.S. At the moment, the update is only available for U.S. users, however it will be expanding globally in the coming weeks.
Instagram is testing a 'Personal Fundraiser' feature
Instagram has launched a new tool for personal fundraisers, which will allow users to link directly to a fundraiser from their profile page. While users can choose to start a cause or support an existing one, Instagram will be vetting all fundraisers to ensure they meet the guidelines and rules. The feature allows users to raise funds for 30 days, with a further option to extend it once for another 30 days, which means the feature is more suitable for time-sensitive causes as compared to a replacement for ongoing fundraising efforts. The feature is currently being run as test for users in the U.K, U.S. and Ireland, however, Instagram plans to expand the feature in the upcoming months.
Snapchat launches Headspace Mini app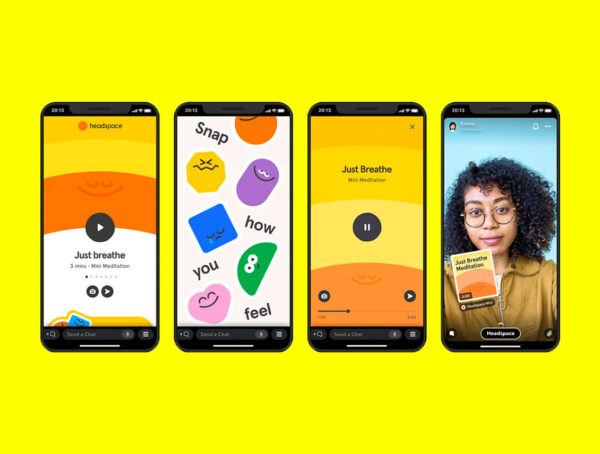 Snapchat has rolled out Headspace Mini, the first of its mini-apps, a series of small HTML-powered apps built by third-party developers. Based on research, the app is developed to help users' "experiences with mental health" so that they can turn to their friends for support when dealing with challenges. The app is only one of the four Minis Snapchat is launching this week, as the platform is set to launch Let's Do It later in the week, an app which helps groups make decisions.
4 Things Trending On Social
The spicy search for 'Mr Butter Chicken'
A Melbourne man has been aptly dubbed "Mr Butter Chicken" after he was fined $1,652 for breaching restrictions by driving over 30km to buy a "special" butter chicken dish from a restaurant in Melbourne. Since then, Tonka restaurant has come forward claiming to be the source of the special dish and has turned to their followers in hope of locating the guy so they could deliver him some much-needed butter chicken goodness. Alas! Mr Butter Chicken has been found to be 48-year-old Noel Atkinson, who travelled from Werribee to Melbourne CBD last Friday to satisfy his cravings. Never underestimate the power of a good butter chicken.
The internet is obsessed with this Auslan interpreter
The work of Auslan interpreters who are tasked with delivering important Government updates to hearing-impaired people through the pandemic has been nothing short of amazing. One interpreter in particular, who stands alongside Victorian Premier Dan Andrews, has been the talk of the town. The unidentified interpreter has caught the public's attention for his good looks, however, it was earlier this week he really stood out by unintentionally capturing everyone's feelings in one perfect, middle-fingered frame. FYI, the particular sign could mean "lazy", "holiday" or "available", depending on the context.
What image are you?
A series of posts following a minimal format has blown up on Instagram recently. Each post features a name and an image (think of it like a meme + that souvenir shop name keychain) and you'll get to tag yourself or your friends. Accounts such as @what_image_are_you, @what_cat_are_you and @what_cursed_image_are_you have been appearing in DMs and Stories alike. From TikToks to clocks to cows to depressing meals, these simple posts have been drawing much attention from the community. Most of the accounts post new content on a request basis and some accounts are also accepting donations for their work.
Photo of Canadian & American boat at Niagara Falls goes viral
In case you didn't know, there is an American and a Canadian side of Niagara Falls. A photo of an American and Canadian boat which shows the stark contrast between how these two countries are dealing with COVID-19 has gone viral. The American boat, seen to be full of passengers, is currently running at 50% capacity. On the end other, the Canadian boat has a maximum capacity of six people. FYI, Canada has recorded 111,697 cases so far while the U.S. has more than 3.9 million.