Check out the weekly buzz on our favourite social media platforms, including new features and what's trending!
4 New Social Updates
New features are coming to Facebook Live
With the COVID-19 pandemic crisis in full swing, more people around the world have turned to social media platforms and live-streaming in particular. As such, Facebook is now launching new features to Facebook Live, making it more user-friendly and accessible. These features will come to play within the next few weeks, including automatic closed captioning and an audio-only mode which lets users just listen to a live video stream, which will help more people who have slower connections to engage with live streams. Facebook is also launching a logged-out mode to let people without Facebook accounts to watch or listen to content on the platform.
Snapchat is allowing Stories to be integrated into apps
Snapchat has added App Stories to the Snap Kit toolset for developers to begin incorporating Snapchat Stories into their apps, allowing people to build a content ecosystem and drive more engagement to their own apps. For users, this means more reach for their content but also to be specific as to whom they want their Stories to be shown. For those with privacy concerns, Snap has emphasised that users' demographic information and friends lists are not shared with third-party developers.
Facebook launches Community Help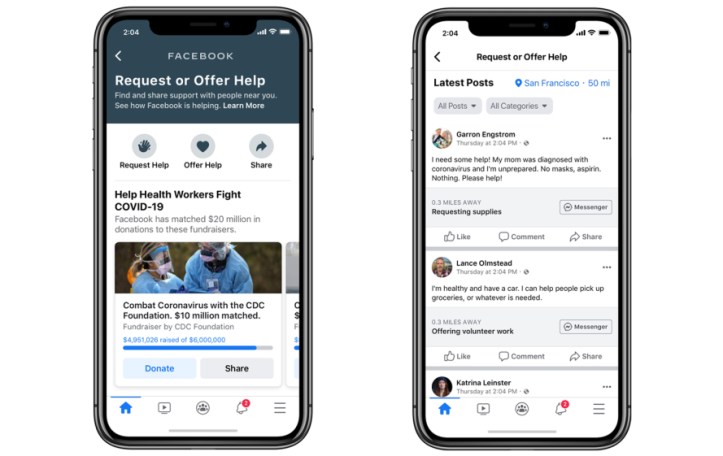 To provide more support for the community, Facebook has announced Community Help, a place for people to request or offer help to neighbours, such as "volunteering to deliver groceries or donating to a local food pantry or fundraiser." This feature is being rolled out in the US, UK, France, Canada and Australia, with more countries to be included in the coming weeks.
YouTube is working on TikTok competitor called Shorts
YouTube is looking to compete directly with TikTok by launching its own short-form, user-generated content platform called "Shorts". Similar to TikTok. Shorts will allow people to upload brief videos into a feed inside the mobile app and take advantage of licensed music that YouTube Music has in its catalogue. Considering its massive user base, it's not surprising that they are building a version of TikTok. Similarly, Facebook has also developed its own version of TikTok – Lasso – which is being quietly tested in markets like Brazil.
4 Things Trending On Social
People all over the world are making Dalgona coffee
As cafes over the world shut their doors, coffee lovers have been making "dalgona coffee" at home, a viral global coffee trend. From YouTube tutorials, TikTok videos to viral social media posts, people are showcasing their pillowy coffee creations, made by vigorously mixing instant coffee, sugar and water. The drink got its name from the foamy coffee topping, which resembles a popular South Korean toffee candy 'dalgona' before its mixture of whipped oil and sugar is flattened. The dalgona coffee has become the quarantine coffee of choice, as more people are staying home and becoming more open to creating new recipe.
TikToker's valiant attempt to leave the house disguised as a bush goes viral
Thanks to mandatory social distancing and lockdown measures put in place, people have been getting creative when it comes to finding ways to leave their house. A TikToker has initially posted a video of a neighbour attempting not to get caught by disguising as a bush whilst on lockdown, which has gone viral, with more than 16 million views. Later, it was revealed that the 'neighbour' was the original poster's partner. While we have been swindled, the video was a pretty good laugh.
This boss couldn't turn off a potato filter during her work meeting
From the uni student who went to the loo in front of her class to the priest and his blessed Facebook filters, there has been an increase in meeting and livestream mishaps, thanks to more people working from home. This week's viral meeting mishap follows the story of a boss stuck in a potato filter for the entirety of her work meeting. The tweet is reaching almost one million likes, with social media users quickly championing quickly Potato Boss™ for being a relatable queen.
This toilet paper cake is everything
The whole 'rona situation has us all tensed up and feeling anxious. A lady from Sydney wasn't able to sleep and she thought of trying to relax with her favourite hobby: cake making. To channel her anxiety about the current moment, amateur cake decorator Kate ended up designing a cake which looked like a toilet roll. Her husband shared her masterpiece on Twitter, which quickly went viral. How good does it look?!