Check out the weekly buzz on our favourite social media platforms, including new features and what's trending!
4 New Social Updates
Instagram rolls out pinned comments to everyone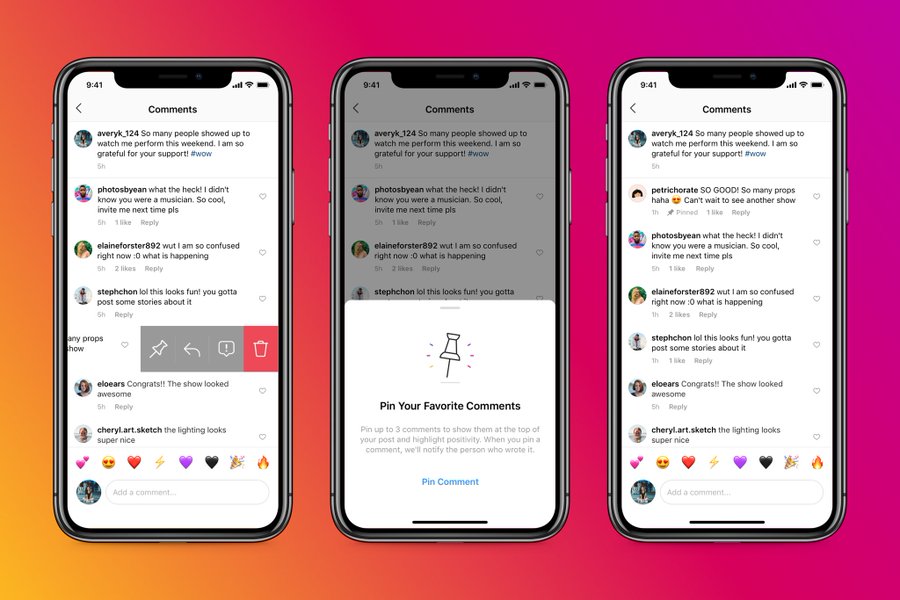 Instagram has announced that they are rolling out pinned comments to all users, where they can now pin up to three comments to the top of the comments section on their posts. Originally tested in May, 'Pinned comments' is one of the several features Instagram announced a few months ago in an effort to reinforce positivity on the app and limit the harassment or bullying that happens in the comment section. Comments which are pinned will be labelled and these pinned comments will mask all other comments which can only be seen by tapping on "view all comments." Users whose comments are pinned will also receive a notification.
LinkedIn's new feature helps you to pronounce members' names
Names are unique and sometimes hard to pronounce. This could be a thing of the past, especially for people on LinkedIn. The platform is rolling out a new audio-recording feature which allows members to create a recording of how they would want their name to be pronounced. The new feature is optional and will be made available to all members globally in the coming weeks.
Instagram swaps out its 'Activity' tab for 'Shop'
Instagram is starting a small global test of the Instagram Shop tab, which allows Instagram users to shop from top brands and creators via a new tab in the app's navigation bar with just one tap. With this new tab, users will be able to filter products by categories and the main difference is that the Shop icon will replace the heart icon (Activity) in Instagram's main navigation. This doesn't mean the activity section is totally gone, as those in the test can still access the tab at the top right of their Feed or by going to their profile and clicking on the heart icon from there. Instagram is also reportedly working on an upcoming Shop experience, which is set to roll out later this year.
TikTok is pulling out in some countries
TikTok is on the line and facing a global backlash, as more countries are tightening their digital borders and considering a ban on the app. Following India's ban on TikTok last week, the US government is also considering a TikTok ban, according to the latest reports from the secretary of state. The platform has also announced its withdrawal from Hong Kong this week, after China imposed a new security law on the city. In Australia, there are more than 1.6 million TikTok users and while there hasn't been news of a ban, there are rising security concerns over the safety of the app, amid increasing tensions with China.
4 Things Trending On Social
Kanye is running for president
US rapper Kanye West has announced on Twitter he was running for president, with his declaration quickly going viral and prompting a flurry of speculation. West first raised the idea of running for president for 2020 back in 2015 and while it is hard to say if he's serious this time, he has won the support of his wife Kim Kardashian West and friend Elon Musk. In terms of logistics, West has not put his name on the ballot and time is running short, making it hard to see West having an actual field operation.
The internet is losing their mind over this human-sized bat
Frankly, we don't blame them. A tweet showing this human-sized giant bat spotted from the Philippines has gone viral and we can all imagine why. The megabat, also known as a giant flying fox, has a wingspan of up to 1.7 metres and is literally taller than I am. Understandably, the internet is losing their minds over this mega creature and absolutely terrifying people who haven't heard of them before. Despite the large size, these bats are herbivores and live on fruit such as figs.
People on TikTok are giving their cats eggs to see if they'll "protect" them
Cat owners on TikTok have started giving their kitties eggs to see if they will "protect" them and the results are adorable. It's odd but the cats are really out there protecting those fragile eggs with their lives! Check out all the cuteness here.
You could soon smell like space
What does outer space smell like? Thanks to a Kickstarter campaign in collaboration with NASA, you might soon be able to experience the mysterious smell yourself. The campaign, which has already raised more than $500,000, is developed by Steve Pearce, a chemist who was contracted by NASA in 2008 to recreate the smell of space for use during astronaut training. The end goal is to bottle the scent as a fragrance called "Eau de Space". So what does space actually smell like? According to astronauts, it could smell like anything from a "seared steak" to gunpowder or welded metal, or even rums and raspberries!