Check out the weekly buzz on our favourite social media platforms, including new features and what's trending!
4 New Social Updates
GIPHY Arcade is here
GIPHY Arcade is a new platform that allows users to create, play and share their own GIPHY-powered micro-games. Just launched this week, the arcade features collections of micro-games and allows users to create their own. Creating your own GIPHY-powered game varies on the platform, with more customisable options on the desktop as compared on the mobile. Once created, users can also share their micro-game via links in text messages, tweets and so on. This is great for brands to get on board and we've done one with one of our favourite clients here!
Instagram is giving you more control over the data you share with third-party apps
To give people more control over the data they share with other third-party apps and services, Instagram is introducing new features to help users better control the data they share. Third-party apps and websites often provide options to "Import photos from Instagram" or "Connect/Link to Instagram." Now, you can manage your connections to third-party services in "Settings" on your app. From there, you can remove any services you no longer want to be connected to your Instagram account, cutting off access to new data on your account. These updates are gradually rolling out over the next six months and will ultimately allow people to have more control over the data they share.
Instagram is working on 'Invites' stickers in Stories
Instagram is reportedly testing a new Invites sticker on Stories for events. This new sticker lets viewers know about an event you're organising and gets them to RSVP directly. While Instagram hasn't announced any plans to roll out this new feature, this is great for brands to share upcoming events on Instagram Stories.
You can schedule Instagram posts directly on Facebook
Facebook's Creator Studio has finally added a highly requested feature: the ability to natively schedule Instagram posts and IGTV broadcasts ahead of time. This functionality is available to all business accounts, allowing for content to be scheduled up to six months in advance. Prior to this, the only way to schedule Instagram posts was by using third-party tools. This feature is only available to some accounts at the moment but we're positive it'll roll out to all eventually. At the moment, it is still a bit buggy but we can expect more updated features in the near future.
4 Things Trending On Social
Fornite disappeared, leaving millions of fans staring into the void
Earlier this week, millions of gamers were in for a huge shock this morning when Fortnite disappeared into a digital black hole. Yep, it was literally a black hole on the screen. While some fans were convinced that this was the start of a brand new chapter of the game, a series of random numbers started appearing around the black hole throughout the stream, assumably making some sort of code. Of course, the internet went crazy, with hundreds of theories popping up by the second. It was wild on Twitter.
A video of Billie Elish realising a fan "stole" her ring is causing drama on Twitter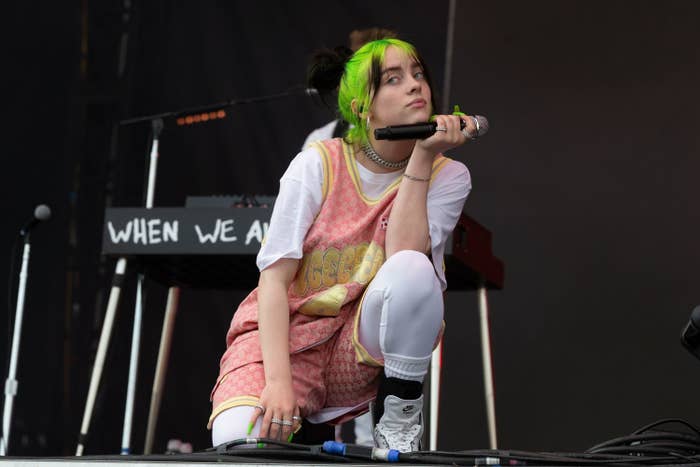 A recent video of Billie Eilish realising someone "stole" her ring while she was wearing it has gone viral. As Eilish was making her way back to the stage at ACL Festival in Texas, she realised her ring was missing and announced it. However, in true Billie Eilish style, she shrugged it off and told her fan to "keep that sh*t." Fans, on the other end, were not so forgiving though, with many tweeting about the missing ring. The singer was forced to step in to calm her fans when the crowd began to turn, chanting "give it back."
Kylie Jenner's "Rise and Shine" meme has been taking over the internet
Rise and shine, folks. Twitter users are all about this particular moment in Kylie's cosmetics company tour where she sang "Rise and Shine" to an already-awake Stormi. Many have recreated their own "Rise and Shine" moments on TikTok and even Ariana Grande made her own version! Perhaps the best response comes from Kylie – with her very own face inside our favourite Teletubbies sun!
People are sharing the "dumbest" way they've accidentally injured themselves
Recently, Twitter account @Super70sSports asked its followers about the "dumbest freak injury" of their lives. The thread quickly went viral, with many responding to the original tweet. Some of the craziest responses include someone burning their chest out by trying to iron a wrinkle of their shirt while wearing it to dislocating their shoulder while pulling a six-pack ring apart. Read the whole thread here!