Check out the weekly buzz on our favourite social media platforms, including new features and what's trending!
4 New Social Updates
Say goodbye to grey verification badges for Facebook Pages
Grey verification badges used by small businesses to authenticate their Pages will be gone on October 28. According to Facebook, the removal was part of the platform's efforts to help small businesses portray authenticity in new ways, as most were unsure of what the grey checkmark was representing in the first place. The blue verification badges will remain for public figures, media companies and brands.
Your organic Page impressions on Facebook may drop soon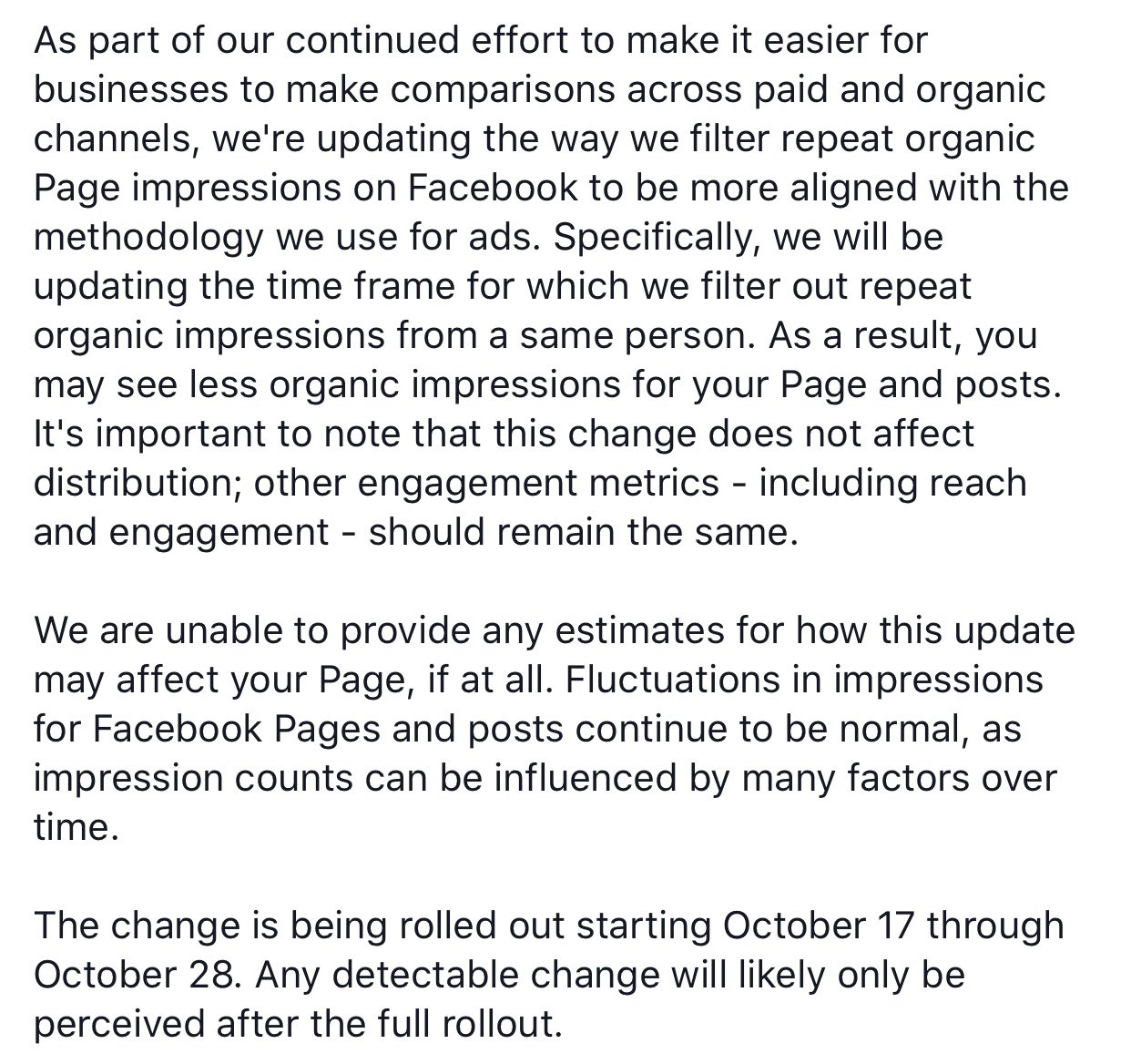 In an email to Page Admins late last week, Facebook is changing how it calculates its organic impressions, meaning it is highly likely it'll show a decline. While the change is set to happen on October 28, it shouldn't be as drastic as what happened when Facebook changed its News Feed algorithm back in January 2018. As part of the update, Facebook is filtering repeat organic impressions to better fit with the methodology used for paid advertising on its platform.
LinkedIn launches its own Events feature
To facilitate face-to-face professional gatherings, LinkedIn has launched LinkedIn Events for members around the world. With this new feature, you now have the ability to create private events, update notifications and get access to search filters to invite the right participants. Members can also find professional events on LinkedIn and invitations to them within the 'My Network' tab.
Instagram is testing Group Stories
Instagram is reportedly testing a new Group Stories feature. While this feature was initially available on Facebook Stories, it was quickly dropped as… well, nobody was really using Stories on Facebook. Now, Instagram is testing this feature, where users will be able to publish a Group Story on Instagram and they can also share it with their close friends. More to come when the details are out!
4 Things Trending On Social
Here's why people are posting their own names on Facebook
Earlier this week, a handful of Australian bands have been posting their own names to Facebook and Twitter, including Ball Park Music, Phil Jamieson and Sweater Curse, among others. Soon, brand pages also jumped on the bandwagon too. In case you're wondering what's going on, you're not alone. It all started with Max Quinn, a musician who has recently released a new song and decided to post his own name in a bit to promote his new track. It worked out pretty well, considering how that particular post out-performed almost all of his others. Quinn then tweeted his "strategy" to generate organic brand engagement and… Voila! That's how he started the ball rolling.
Meet the world's first bee influencer
In an effort to stimulate and foster the growth of private philanthropy, B. is the world's first bee influencer, created by an independent administrative agency established by the French government. Looking at B's feed, it's similar to those of many Instagram influencers, including shots of B. in beautiful settings, doing yoga or simply sunbathing. Oh, and as an influencer, B. can be engaged by companies and organisations which share similar beliefs to promote their products. All of B's influencer fees go towards funding "the actions considered as the most fundamental and urgent in the protection of all bees." Check out what's the buzz on B.'s Instagram.
People on the internet are at war over Kmart pulling a deeply strange "child bride" costume
A Halloween costume from Kmart has been forcefully taken off the shelves after causing outrage among mums on the internet. The costume in question is a Halloween wedding dress for children aged 4 to 6. Child brides are a highly controversial topic and one parent found this costume so offensive she created a charge.org petition to remove the costume from shelves. Kmart promptly responded to the backlash by removing the costume from shelves and making a public statement.
Teen shoving a 10-patty burger is now a viral TikTok sensation
Earlier this week, a video of a teen caught demolishing a burger the size of his head went viral on TikTok. Mind you, the burger had ten patties, five slices of cheese, and no toppings. At the time of writing, the burger racked up more than 680k likes and nearly 5,000 comments. It even made its way to other platforms like Twitter, Facebook, Instagram… basically every other social media platform out there in the world. And yes, it also went viral on those platforms. Ethan eventually finished the burger in 20 minutes. This guy should have his name on the world records or something.