Check out the weekly buzz on our favourite social media platforms, including new features and what's trending!
4 New Social Updates
Introducing Facebook Pay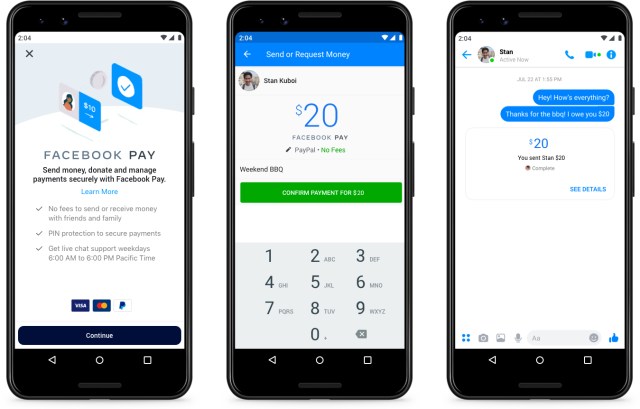 Facebook has launched Facebook Pay, a payment system across Facebook, Messenger, Instagram and WhatsApp. According to Facebook, "people already use payments across our apps to shop, donate to causes and send money to each other." Facebook Pay is currently available to people in the US and they can use it for payments for fundraisers, in-game purchases, event tickets, person-to-person payments on Messenger and purchases from select Pages and businesses on Facebook Marketplace. Facebook Pay will eventually roll out to more people and places, including for use across Instagram and WhatsApp.
WhatsApp introduces catalogues for small businesses
WhatsApp is introducing catalogues to WhatsApp Business, a new feature that creates "a mobile storefront for business to showcase and share their goods," giving customers easier access to products and services – and information about them. With this new feature, businesses can share specific products from the catalogues with their customers in a WhatsApp message. It is currently available in certain countries but is expected to roll out globally soon.
Instagram Stories launches Reels, a TikTok clone
To keep up with the competition, Instagram has launched Reels, a TikTok clone which lets you make 15-second video clips set to music and share them as Stories. These Reels have the potential to go viral on a new Top Reels section of Explore. Similar to TikTok, users can add music to their Reels from a selection of music tracks, or borrow audio from anyone else's video to create a remix of their meme or joke. Reels is currently available to Instagram users in Brazil.
Facebook may limit the number of ads your page can run at any time
In a recent update in Facebook's API, the platform announced that they will start implementing a limit on the number of ads each Page can run at the same time. According to Facebook, these ad limits are being implemented as very high ad volume can hinder an advertisers' performance, as fewer ads exit the learning phase and more budget is spent before the delivery system can optimise an ad's performance. These ad limits will only impact "a small percentage of advertisers" in mid-2020 and more details will be provided next year.
4 Things Trending On Social
People are outraged there isn't international coverage on the bushfires
#AustraliaFires is a trending hashtag this week on Twitter, a result of getting global media to pay attention to the ongoing bushfires in NSW. There are hundreds of tweets, with many likes and retweets, all of them pleading for more 'awareness'. Some are even appealing to people like Shawn Mendes or Alexandria Ocasio-Cortez to use their platforms to help. On the other end of the spectrum, some Aussies are finding ways to make the best of it, one of which is to poke gentle fun at the situation on TikTok.
People are sharing their "and then I was fired" moments on Twitter
Earlier this week, Twitter account @HashtagRoundup asked people to share what the did at work that caused them to be fired, using the hashtag #AndThenIWasFired. The tweet attracted some response from some users – check out some of the funniest tweets here.
A unicorn cake from a bakery was so botched it ended up in a court case
Alexandra Schroeder, a mum from Michigan, has ended up embroiled in a court case with a bakery over a botched unicorn cake which was meant for her daughter's fifth birthday party. The party, which was organised by Whipped Bakery, went wrong when there were only one table and six chairs provided, with the rest of the 13 guests told to stand. The final straw came when they saw the cake, which was nothing like the unicorn cake promised, as it spotted a more phallic horn than expected and that was totally not okay for a 5-year-old's party. The bakery then claimed that Schroeder still owed them money and blocked her on Facebook, which was how the court case came about.
This K-Pop band flight safety video has gone viral
Inflight safety videos are usually boring but it's not the case for Korean Air's new inflight safety video, starring chart-topping K-pop boy band Super M and K-Pop mainstay BoA. With its space-age setting, singing and dancing to hip-hop beats, it's no wonder this video has gone viral on YouTube, with over 7 million views. Watch it here.