Check out the weekly buzz on our favourite social media platforms, including new features and what's trending!
4 New Social Updates
Facebook News is here
In the midst of fake news and false information, Facebook has launched Facebook News, a dedicated tab for news. Aside from highlighting the most relevant national stories of the day, News gives people more control over the stories they see, and the ability to explore a wider range of their news interests. Similarly to the News Feed, the News Tab will use algorithms to bring up news relevant to you, based on your interests, supported by a small in-house team with strong editorial experience. This News feature is only available to select users in the US but we can expect it to roll out globally over time.
Facebook and Instagram are censoring "sexual" emojis
To prevent online sexual solicitation, Facebook and Instagram are cracking down on emojis that are "implicitly or indirectly" related to sex. In other words, your favourite peaches and aubergines. While the rules were introduced in August, any "contextually specific and commonly used sexual emojis" will no longer be allowed alongside sexual statements. The emojis can also not be used to censor nudity, while users are also forbidden to share links to their followers that lead to pornographic content.
T
witter is banning all political advertising
Starting from 22 November, Twitter is banning all political ads globally because they believe "political message reach should be earned, not bought." The changes will affect both candidate ads and issues ads, although ads encouraging voter registration will still be permitted, along with other exceptions. A full policy will be made available to the public on 15 November. Twitter emphasises that this move is not about free expression, but rather about paying for reach, which can force highly optimised and targeted political messages on people.
Facebook launches new Preventive Health tool
Facebook has launched a new Preventive Health tool is the US to help people find affordable places to receive care, set reminders to schedule their tests, mark when tests are completed and much more. This tool allows people in the US to find out which checkups are recommended by health organisations based on their age and sex, followed by information about these checkups and finding affordable places to receive care. Facebook maintains that health issues are private and the data collected via the tool will never be used to show users ads.
4 Things Trending On Social
AirPod Pro Memes
When Apple announced the iPhone 11 and iPhone 11 Pro a few weeks ago, the internet exploded with memes. The internet is back at it again, this time it's directed at the latest AirPods Pro released this week. The new AirPods spot some new innovative features, such as its noise cancellation function but it was the physical difference between the original AirPods and the pros that kickstarted the conversation. Check out some of the best here.
This Twitter thread about a man living in the ceiling is going viral
Viral Twitter threads are some of the best things to read on the internet and this one from Grady Hendrix might just take the cake. Apparently, when Grady was 9, he'd always sneak downstairs for a midnight snack run… until one night when he saw a man's silhouette sitting at his kitchen counter, eating their leftovers. Terrified, Grady alerted his parents but they dismissed it quickly when they didn't catch the intruder he was speaking of. It gets worse but we won't spoil you with the rest of the story, so you can read it here.
Kombucha girl is back with a spicy Italian meme
Brittany Tomlinson is a viral TikTok star, known for making a meme out of herself for trying kombucha for the first time. She's back again, this time with some "noodle weenie dogs", aka some spaghetti noodles stuck into some franks. In the video, which now has over a million likes, Brittany invited her boys to come over at 7 PM sharp to taste her Ma's dinner. The video has spawned some other hilarious video responses from fellow TikTok users and there aren't enough words to describe these memes. Check out the best here.
People are debating over a YouTuber's Halloween-themed mukbang video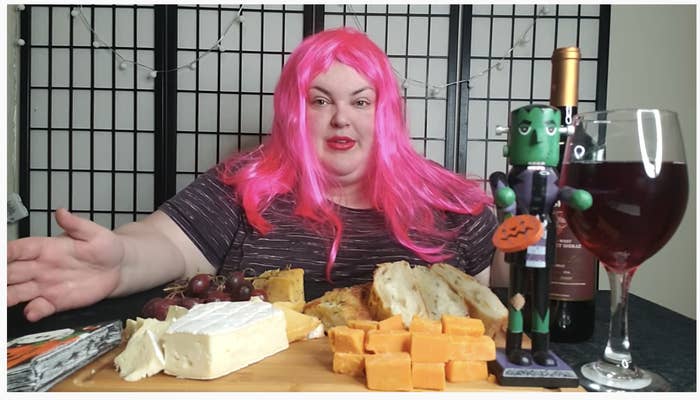 A Canadian YouTuber named Chantal aka Foodie Beauty is facing intense criticism over a Halloween-themed mukbang video. In the video, she is seen eating while discussing an infamous mass suicide when a flash of a dead body covered by a sheet appears. Categorised as "true crime mukbang", Chantal is only one of the many YouTubers who make videos of this genre. The video was highly sensitive to some viewers, with many calling Chantal's video repugnant and reporting it so it could be taken down. Many also saw the entertaining tone of her video a clash with the nature of the topic, causing a wave of concern and backlash from viewers.