Check out the weekly buzz on our favourite social media platforms, including new features and what's trending!
4 New Social Updates
Facebook Dating is here
Facebook has officially launched a dating service within its platform in the US. With Facebook Dating, people can integrate their Instagram posts directly into their Facebook Dating profile and giving people the ability to add Instagram followers to their Secret Crush lists, in addition to Facebook friends. The platform has also promised that it'd be possible to add Facebook and Instagram Stories to your Dating profile by the end of the year too. This new feature is only available to people in selected countries who are 18 years old and older with the newest version of Facebook.
Facebook replaces 'Tag Suggestions' with its 'Face Recognition' Feature
Back in December 2017, Facebook introduced a new face recognition feature to help protect people's identity on the platform. The setting controls whether Facebook uses face recognition to suggest who to tag in images and provides an easy on-or-off switch for a broader set of uses of face recognition. This feature is now a norm and people who are new to Facebook or previously had the tag suggestions setting will have the face recognition setting and receive information about how it works. For anyone who doesn't have the face recognition setting and doesn't act, Facebook will not use face recognition to suggest tags or recognise someone in an image.
YouTube launches /Fashion Hub
Fashion and beauty channels make up a huge part of YouTube. To create an ultimate destination for style content, YouTube.com/Fashion is born. Users who go looking for original fashion and beauty content on YouTube will be able to find videos from various fashion and beauty creators, industry professionals, publishers and luxury fashion brands. /Fashion also features style content from people's favourite YouTube creators who will appear within a featured section dedicated to them. In September Fashion Month, /Fashion will be live streaming the latest collections directly from runway shows like Ralph Lauren, Dior and others too.
You can now preview Spotify tracks on Facebook Stories
Spotify has come up with a better way to share the tracks you love. Now, you can hear 15-second previews on Facebook Stories when you share the tracks. This feature primarily helps artists promote their work and connect with fans, however, many other users will also come to find it useful and engaging. To share the track on Facebook Stories, tap "share" when viewing the track on Spotify and customise the Story as you like before posting it to Facebook.
4 Things Trending On Social
iPhone 11 memes and trypophobia
Apple has announced its latest iPhone series earlier this week, drawing very mixed reactions from people. The new iPhone 11 Pro and Max models, which was revealed to have three cameras grouped together, have really triggered trypophobes on the internet. Some Twitter users even went out of their way to imagine what the phones would look like with even more cameras, freaking others out. In the memetime, if you're one of those who have are trypophobic, it might be worthwhile to check out some of the best memes about the release. Our favourite one, of course, has gotta be cooking some mi goreng on these new "stoves". 🔥
The internet is going wild over an essay written by the ghostwriter of an Instagram influencer
You've probably come across the name Caroline Calloway, an American Instagram influencer once described as Cambridge's "most controversial Instagram celebrity." Earlier this week, a long-anticipated essay, written by Calloway's ghostwriter of five years, was published and it quickly became the talk of the town. Since the article was out, there have been divided opinions about the worth of the essay, with some saying it was cruel and unnecessary. After the essay was published, Calloway continued her online publicity tour: the URL for the essay now sits in her Instagram bio, right underneath the reminder: "No, not that one. The other scam. The one you love." This saga would likely go on for a bit and perhaps even be turned into a movie.
Someone hacked Robert Downey Jr's Instagram for an Iphone giveaway scam
Robert Downey Jr's Instagram account was hacked and used for an iPhone giveaway scam. A post appeared on his profile, saying: "I'm giving away 2000x FREE iPhone XS & MUCH MORE on my Instagram story RIGHT NOW! Claim them before they're ALL gone!" Followers were directed to his story, where there was a "swipe up" to claim a phone. His bio was also edited, with a link to a form asking for personal info. Technically, the Ironman actor could literally buy 2,000 iPhones and hand them out on the street but that said, the giveaway definitely didn't sound legit and he took to Twitter to warn his followers away from it.
The influencer who admitted to faking clouds in her Instagram has been offered work with the photo-editing app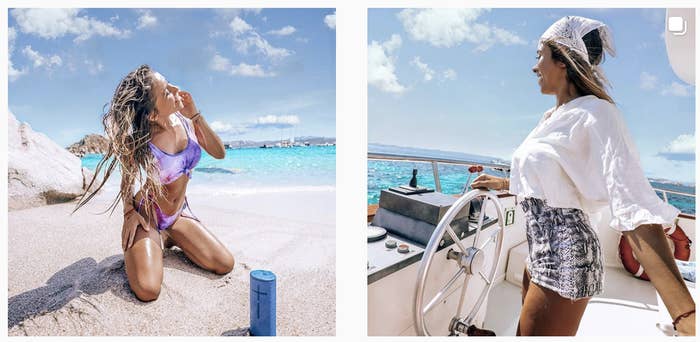 Tupi Saravia, a travel influencer who confirmed she had been putting fake clouds in her photos after people noticed the same cloud formations in different shots, has now been offered to team up with the very same photo editing app she used to create more fake cloud patterns. The app in question is Enlight Quickshot, an app that's developed a specific feature to add in clouds to overexposed photos of the sky. In a fun but ironic collaboration, Saravia will now come up with a "new cloud pack" which she will personalise and her 314k followers may also have a chance to submit their clouds for her pack. Now, that's good marketing.