Check out the weekly buzz on our favourite social media platforms, including new features and what's trending!
4 New Social Updates
Twitter launches new 'Timing is Everything' insights tool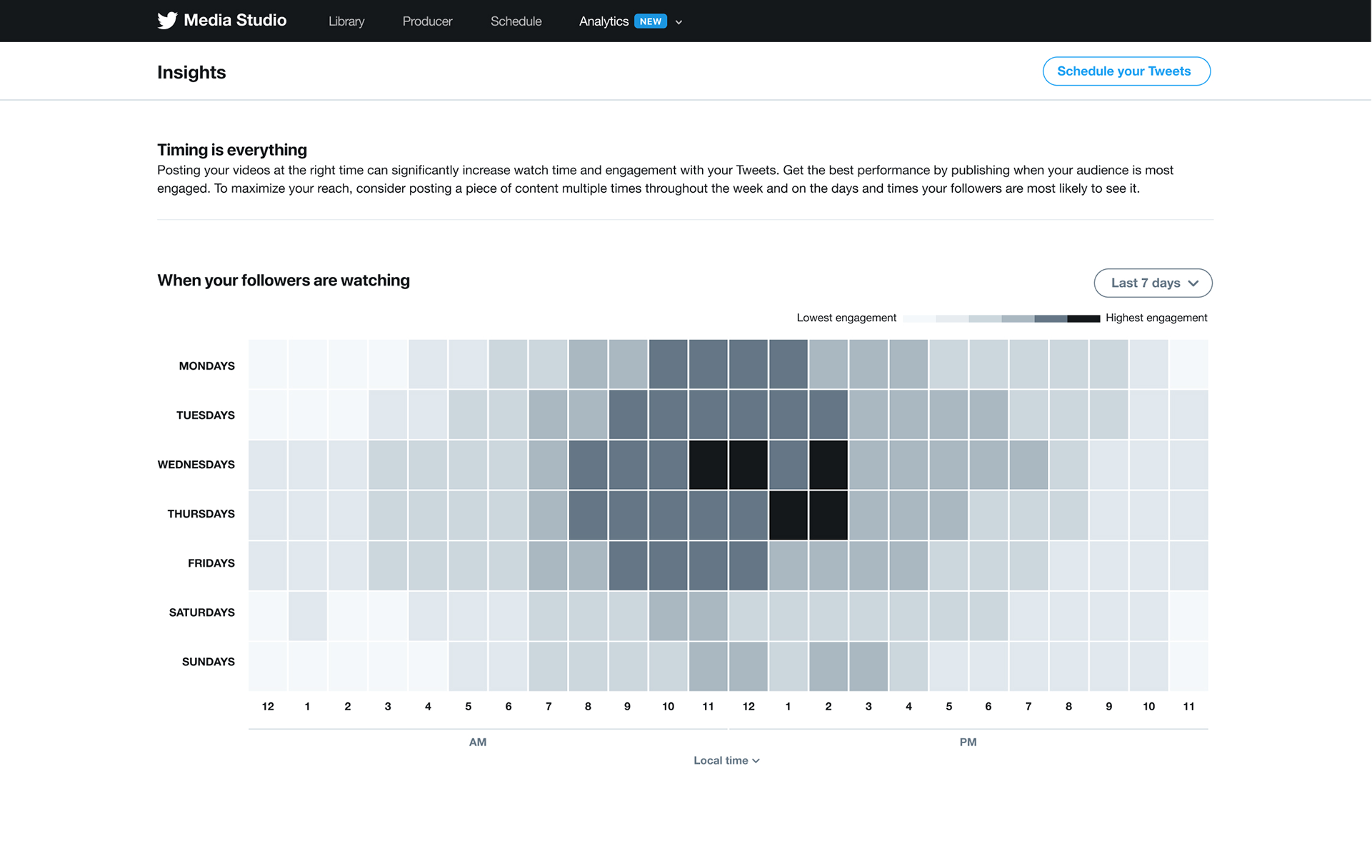 As part of its effort to give publishers more actionable data that will help them improve performance on its platform, Twitter has launched a new Insights tool called "Timing is Everything". This tool is used by publishers to see historical data about when their audience is on "Twitter watching and engaging with video." The table shows publishers the best time(s) to Tweet video content, to help them maximise engagement, conversation and viewership. Publishers should note that the chart doesn't just show them when their organic followers are watching their videos; it instead "shows when they are watching any video on Twitter." The Insights page also allows Publishers to schedule their Tweets directly if they have to publish at inconvenient times during the day or night.
Facebook's future may be private messaging
Facebook is no stranger to private messaging, with Messenger having over 1.3 billion users and WhatsApp under its wing when it bought over the company in 2014. Mark Zuckerberg himself took centre stage on March 6, explaining that private messaging will soon be the most popular way that people interact on Facebook products. This would mean a radical change in the way Facebook was built and operates, as neither Facebook nor Instagram were built around privacy.  People are more cautious about privacy and Zuckerberg believes "the future of communication will increasingly shift to private, encrypted services where people can be confident what they say to each other stays secure and their messages and content won't stick around forever." At this moment, Facebook has worked hard and committed a lot of resources to upgrade and monetise its private messaging realm, including upcoming WhatsApp ads, Messenger becoming a complete communications platform for people and brands, and Instagram bringing its Direct Message feature to the web and desktops.
Facebook is rolling out a secret dark mode for messenger
Most apps have been rolling out a dark mode recently and now Facebook is launching it on Messenger. That said, you can't just head over to your settings on turn it on. You'll need to unlock it with a secret move. To get the dark mode on Messenger, you'll have to earn it and there's a cheeky trick you'll need to do in order to activate it: you'll have to crescent moon someone. Simply send someone (or yourself) a crescent moon emoji 🌙 and once you do so, a shower of crescent moons will appear in your chat window, following a prompt to activate Dark Mode in settings. This feature has just started rolling out to users and should be available to everyone soon.
Snapchat tests beta in eight new languages
In a bid to drive further growth in Asia, Snapchat has launched a beta test in eight new languages this week – five of which are widely spoken in India. The new languages added to Snapchat's Beta test are Hindi, Marathi, Gujarati, Punjab, Filipino, Vietnamese, Urdu and Malay. Snapchat is encouraging users to switch to any of them if they are fluent. It's a clear sign that Snapchat is trying to break into the Indian market.
4 Things Trending On Social
People are throwing their Vans in this viral challenge
People are throwing their Vans shoes in the air, thanks to a viral internet challenge. The #VansChallenge began when a Twitter user noticed that her Vans shoes always landed upright when she threw them onto the floor. She shared a video of her discovery, along with a caption that claimed, "it doesn't matter how you throw your vans they will land facing up." The internet is shook. People wasted no time in testing out this theory and started to do their take on the challenge, with many finding out that her hypothesis was true. There is a good reason why the Vans challenge works, as the heavy soles of the shoe are designed to help weigh feet down on the skateboard and cushion the impact for skaters.
Kylie Jenner is officially the youngest self-made billionaire
Kylie Jenner has officially dethroned Mark Zuckerberg as the youngest self-made billionaire, male or female, in history. After signing an exclusive distribution deal with American beauty retailer Ulta, Kylie Cosmetics was rolling its $29 lip kits into Ulta's 1,000 plus stores. Over the next six weeks, Kylie Cosmetics sold $54.5 million worth of products in Ulta. Kylie Jenner credits the success to social media, having marketed the brand heavily to her millions of followers. For now, Jenner is focused on expanding her product range and bringing new lines to Ulta. There's definitely a lot coming through for this first selfie-made billionaire.
You've been eating pineapple all wrong
A viral video on how to eat pineapples is blowing minds across the Internet. This all started with TikTok showing a person eating a pineapple – with very loud chewing sounds – by ripping off individual pieces of the fruit. People were mind-blown. The video then made its way to Twitter, where it blew up. This actually makes sense – pineapples are made up of a bunch of berries. Now go get some pineapples.
Trump seems to think Tim Cook's name is Tim Apple
That's it, that's the whole story. During America's Workforce Policy Advisory Board meeting, Donald Trump addressed his dear friend, Apple CEO Tim Cook, by his one true name: 'Tim Apple'. Almost exactly a year ago, Trump also flubbed the name of Lockheed CEO Marillyn Hewson, calling her 'Marillyn Lockheed'. Could it be possible that Trump, having enjoyed the branding spoils of having a company named after himself for decades, simply believes that's how all companies are named?