Check out the weekly buzz on our favourite social media platforms, including new features and what's trending!
4 New Social Updates
Two new ways to buy and deliver video ad campaigns on Facebook
Early this week, Facebook announced that it is launching two new ways to deliver video ads: In-Stream Reserve and ThruPlay. These two new features allow advertisers to have more control over the placement of their video ads and how they pay for their ads. In-Stream Reserve lets advertisers reach people watching certain publishers and creators. Facebook explains that the placements "are bought in advance and delivered to in-target audiences verified by Nielsen". In addition, In-Stream Reserve Categories gives advertisers the opportunity to "choose content packages in specific categories, including sports, fashion/beauty and entertainment, bought in the same away as In-Stream Reserve". ThruPlay helps advertisers optimise for completed video views, allowing them to pay only for ads that are watched to completion, or for at least 15 seconds. This feature will be available in Ads Manager for all video placements on Facebook, Instagram and Audience Network. In-Stream Reserve is currently only available for a selected few advertisers who target US audiences, however, Thru-Play will be available to all advertisers globally within the next few weeks.
Publishers can now monetise their entire global audience on Twitter through In-Stream Video Ads
Up until now, publishers could only monetise audiences in their own country, which has limited publishers' ability to monetise, especially for those with international audiences. With its latest small but essential update, Twitter is unlocking global revenue that publishers could be making through In-Stream video ads. The feature is a great addition as it will help increase both reach and revenue, both of which Twitter needs to stay competitive. To start monetising their global audience, publishers can reach out to their partner manager.
Snapchat adds new ad options
Snapchat has been doing its best to get more e-commerce friendly recently. Its latest effort comes just in time for the holiday season to tempt brands into using it in their holiday shopping campaigns. Shoppable Snap ads are currently rolling out to all advertisers and are made available through Snapchat's self-service ad-buying platform. The ads are also known as Collection ads and they allow advertisers to create shoppable collections of products within each ad. Of course, platforms such as Facebook and Instagram already have this feature, however, it is a good addition for advertisers on Snapchat. Snapchat is also introducing a new advanced pixel targeting feature. Advertisers can use this data from people who have visited their website in order to create specific campaigns tailored to these audiences.
Facebook Marketplace Gets Smarter with AI Tools
Since its launch two years ago, Facebook Marketplace has become a major online source for discovering, buying and selling secondhand but also new items. Facebook recently gave Marketplace an upgrade with a new set of AI-powered tools. For selling, the new AI system automatically suggests categories for listings based on the description and photo provided. In fact, what's even more useful is that Marketplace will now suggest a price for your item based on what similar items were recently sold for in the same geographical area. The buying process will also be streamlined thanks to new AI features, which make it possible to search for items by taking a photo, with similar items showing on the search too.
4 Things Trending On Social
Ruby Rose Has Legit Been Named The Most Dangerous Person On The Internet
Nope, your eyes aren't playing tricks. Ruby Rose has been identified as the most dangerous person on the internet, according to a new study by internet security firm McAfee. Rose, more than any other celebrity, poses the biggest risks for users landing on a website containing malware or viruses when they Google her. This new list, according to McAfee's chief consumer security evangelist, is about spreading awareness of potentially dangerous clicking on the internet. Interestingly enough, the only Kardashian family member to crack this year's top ten was Kourtney, who clocked in at 7th place overall. Other celebrities on the list include Kristen Cavallari, Rose Byrne and Amber Heard.
Lady Gaga fans are slamming 'Venom' on Twitter for rivaling 'A Star Is Born'
Fandoms can get pretty intense and in this particular case, a report has unveiled what could be one of the most audacious schemes yet: an allegedly co-ordinated Twitter campaign dedicated to spreading bad reviews of Tom Hardy's new film, Venom. The whole thing appears to have kicked off simply because Venom and Gaga's new movie, A Star Is Born, both have the same release date this week. Early this week, a number of people accused fans of Lady Gaga of being bots and posting negative reviews of Venom. Buzzfeed News picked up on the phenomenon and singled out one tweet which appeared to have been copied and pasted extensively across the site. On the other hand, A Star Is Born has been getting overwhelmingly good reviews. Other users then began compiling the cloned tweets, suggesting that something very strange was happening in the fandom. In fact, one Twitter user actually claimed that Lady Gaga fans were actually creating dummy accounts to spread the bad reviews in a very legitimate attempt to trash the Venom premiere. Never underestimate these Little Monsters.
Choose your own ending in the upcoming season of 'Black Mirror'
In the upcoming season of Black Mirror, viewers will get to choose their own storylines in one of the episodes of the new season. Netflix expects to release the first of these projects before the end of this year. The Emmy-winning science-fiction anthology series is famous for exploring the social implications of technology and social media, including an episode where humans compete to receive higher ratings from their peers (which to be honest, isn't too far off from China's current digital dictatorship). The foray into choose-your-own-adventure programming represents a new form of interactive TV. As Netflix expands around the world, it's looking for new ways to lure customers and by combining traditional elements of video games with traditional television, the company could create a formula that can be applied to any number of series.
A very weird interview with Drew Barrymore went viral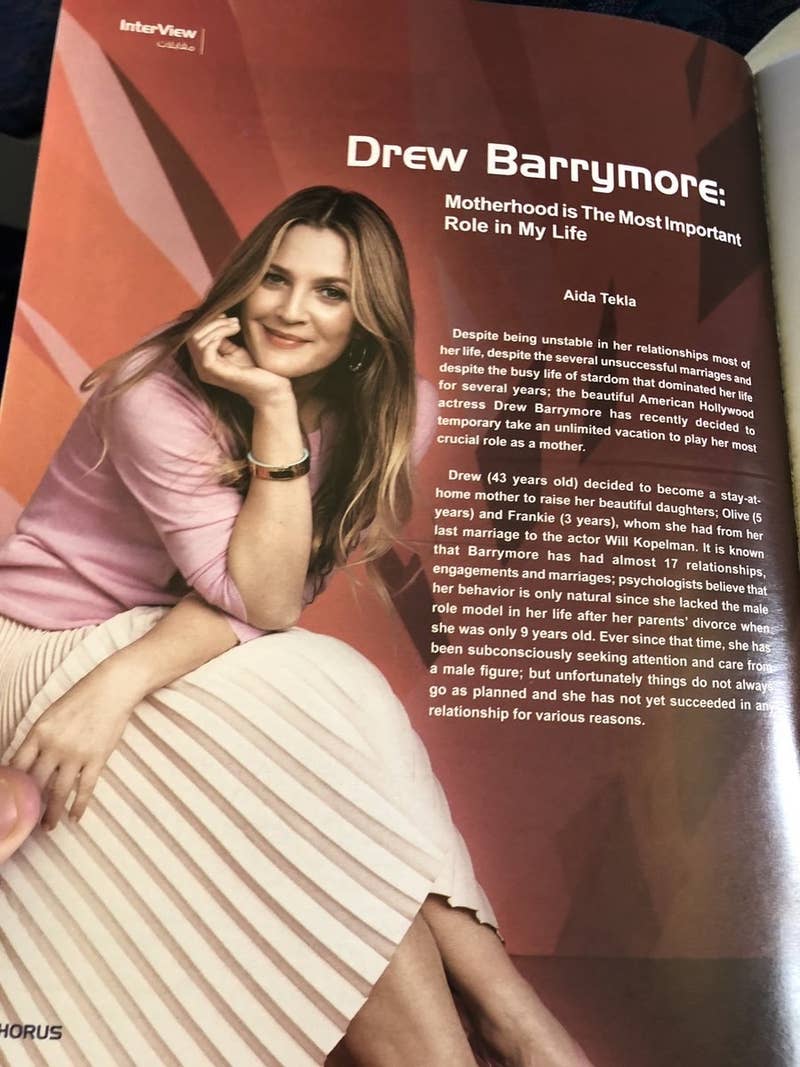 We've all known Drew Barrymore (or at least heard of her name) for years now. In the course of her career, Barrymore has given an estimated 12 million interviews, so by this point, we have a good idea of how she talks to the press. When journalist and Yemen expert Adam Baron spotted this interview with Barrymore in Egypt Air's in-flight magazine, Horus, it seemed a little, as he put it… "surreal." The whole article was filled with extremely suss quotes about things like her career and motherhood, which lead many people to assume that the whole thing was faked. Barrymore's people are as confused as we are, but Egypt Air is standing by the story that appeared in its in-flight magazine. Check out the whole story on BuzzFeed News.🤔