Check out the weekly buzz on our favourite social media platforms, including new features and what's trending!
4 New Social Updates
Facebook is launching a new Instagram dashboard in Creator Studio
In a bid to make it easier for creators to keep all their assets, notifications and messages in one place, Facebook is now working on adding an Instagram dashboard into its Creator Studio app alongside its existing Facebook dashboard. This new feature allows admins to switch between Facebook or Instagram stats. While it's not available to all users at this point, you'll see it within your Facebook Creator Studio app as a separate tab if the option is available to you.
Facebook is launching a Messenger desktop app
Facebook has announced at its recent F8 conference that they will be launching Messenger desktop apps for both MacOS and Windows users. While the app is still in a testing stage, it will expand Messenger's capabilities, including a faster and smaller mobile app (Project Lightspeed), simultaneous video co-watching and a revamped Friends tab, where friends can use an emoji to tell you what they're up to or down for.
Instagram wants to connect you with friends, family and interests
To strengthen connections with the people and things you love, Instagram has added some new features. Starting this week, Instagram users in the US have access to the new donation sticker on Stories, a new feature to create a nonprofit fundraiser to mobilise their community around a cause the user cares about. In addition, there is also a new camera and create mode for users to share on Instagram Stories without a photo or video, which is set to roll out globally soon. Lastly, Instagram users would soon be able to shop inspiring looks from creators they love without leaving Instagram. This would mean Instagram influencers would be able to tag the product from a brand they collaborated with, making it easier for their followers to purchase the product without leaving the app.
Facebook has had enough with Instagram bot sellers
Facebook is once again taking legal action against another company that sells fake engagement and followers on Instagram. After suing a number of companies and individuals in China recently, Facebook is now suing against Social Media Series Limited, an Instagram bot seller in New Zealand for ignoring their requests to stop selling fake and automated engagement for years. Facebook estimates the company, which started operations in 2015, earned around $9.4 million through fake engagement. The lawsuit asks for the company's business to be shut down and award damages for manipulating and undermining the integrity of the Instagram platform.
4 Things Trending On Social
GoT cinematographer hits back at complaints episode was 'too dark'
A monumental event like the Battle of Winter was bound to draw mixed opinions from viewers but it turns out the biggest gripe GoT fans had with the latest episode was that it was literally too dark. The internet took it to social media to criticise the crew for shooting the episode in a way that was so dark they struggled to see what was going on, which was a shame considering how epic the battle was. The show's cinematographer, Fabian Wagner, has hit back at complaints. Wagner insisted it was not his fault, pointing out that GoT had always been very dark and a very cinematic show that was supposed to be watched in a dark environment. He also added that the creators wanted the battle scenes to be intense and disorientating, just as it would be in real life.
'Yiayia Next Door' is Australia's greatest neighbour
@yiayianextdoor will be your new favourite Instagram account. Noted as the "girl next door" on the account's bio, the account features a wholesome perspective on the relationship between a young man from Melbourne and his older Greek neighbour, Nina, who he fondly calls Yiayia aka Greek for grandma. She feeds him homemade meals, lots of soup and routinely asks him when he's going to get a girlfriend. What a precious friendship.
The Harry Potter version of 'Pokémon GO' has hit Australia
Harry Potter: Wizards Unite, the wizarding world-themed augmented reality game from the makers of Pokémon GO, is now available to play in Australia and New Zealand! The game is still in beta mode, with possible changes in the future and the game's creators warned that the game might be "buggy and unstable at times". Players are greeted by an Irish wizard who explains that magical artefacts have been flung across the planet and it's up to the player to retrieve them. The 'foundables' then appear in AR, just like Pokémon do in the earlier game.
This Korean YouTuber educated herself and her audience on cultural appropriation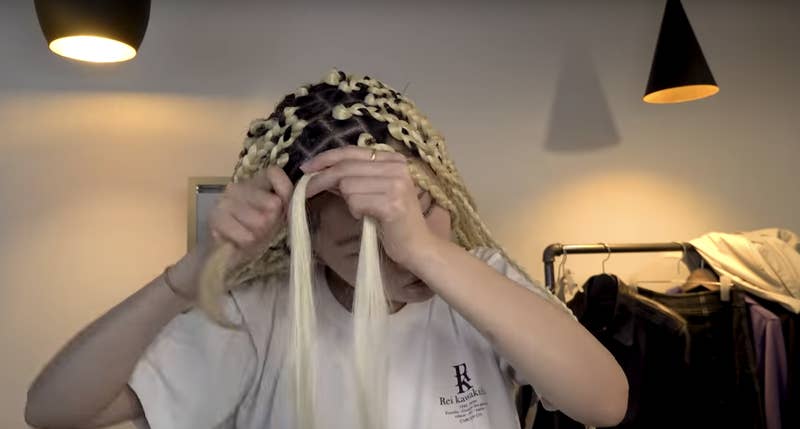 Meet xoxosophia, a 28-year-old YouTuber from Seoul with 44k subscribers and counting. Recently, she debuted a new look where she rocked box braids, a style commonly associated with black women and protective styling, which is also often a source of debate around cultural appropriation when worn by non-black people. The YouTuber documented the process of installing her own waist-length box braids, which garnered a mixture of reactions, including accusations of cultural appropriation. In response to the criticisms, xoxosophia created a follow-up video that showed her removing her braids while discussing cultural appropriation and offering some information on the legacy of black hairstyles. Her response video has been viewed more than 600,000 times and encouraged further discussion about what cultural appropriation looks like in South Korea. People have applauded the YouTuber for taking the time to educate herself and pass on the knowledge to her audience.