Check out the weekly buzz on our favourite social media platforms, including new features and what's trending!
4 New Social Updates
Instagram is cracking down on fake likes and followers
Earlier this week, Instagram has announced it will be relying on "machine learning tool" to crack down on people gaming the system with fake likes and followers. This new system will help detect accounts growing artificially and hit down on these businesses that sell "likes" and followers. However, Instagram will not start removing likes or followers that you've already garnered as these tools are not retroactive. Instead, the platform will now automatically detect the accounts that are "growing artificially" and act on those. If your account is found suspected to have artificial growth, you may risk it being deactivated. It is time to act if you've been using third-party services to artificially grow your Instagram presence, as any account which has provided access to services offering likes and followers will soon be detected.
Instagram introduces three new ways to shop on its platform
Instagram is gearing up for the holidays with three new shopping features that make it easier for shoppers to use the app for their holiday shopping. In September, Instagram expanded Shopping with the introduction of product stickers in Stories and they also announced a shopping channel in Explore, a dedicated space for users to shop from the brands they follow as well as the brands they have yet to discover. The first new feature allows users to save items they might come across in their "Shopping Collection" to come back to it later. The second feature is being tested and it is "a redesign of the Shop tab on business profiles" so users can easily view all the products featured within their shopping posts. Users can tap on the 'Shop' button to see products and information when visiting an Instagram business profile. Lastly, the third feature allows users to shop in videos from their favourite brands, where users can tap on the shopping icon in the video to reveal the featured products and learn more about them.
LinkedIn launches "Student Voices", their own take on Stories
Stories are everywhere and they are even on LinkedIn now. To re-engage with younger audiences, "Student Voices" are the first version of LinkedIn Stories. They will appear on top of the main feed and allow students to post short videos to their Campus Story. The feature only welcomes videos (no photos) and the uploaded content disappears from the Campus playlist after a week. This feature is already being tested and is only available to university students in the US. However, LinkedIn has plans to extend the feature to more user sets in the near future.
Your Instagram profile is about to look different
Starting this week, Instagram is going to make changes to your profile page. While it is not a dramatic change such as changing the algorithm, you may see features re-arranged at the top of your profile including changes to icons, buttons and the way you navigate between tabs, which Instagram hopes "will make profiles easier and cleaner to use". These new features should allow users to connect more easily with their followers. For people who love their feed to look perfect, don't worry because the photos and videos you've shared on your grid won't change.
4 Things Trending On Social
The universal definition of kilogram is about to change
For nearly 150 years, the official weight of a kilogram was determined by a shiny cylinder of platinum locked away in a French vault. The Prototype Kilogram (or Le Grand K) has been removed from under its glass cloche three times since its conception, to create secondary copies. These first generation kilogram babies are then weighed against each other once every five years and used to create tertiary copies, which are ordered and shipped around the world so that each nation can create their own standard kilograms. Through this process, Le Grand K appears to have gained weight, due to having collected pollutants from the air, which has led to weight gains of tens of micrograms since it became the universal standard. After 60 countries voted to redefine the International System of Units (SI) for weight, current, temperature and amount of chemical substance, Le Grand K will now be retired. It will be replaced by the Planck constant, the fundamental constant of quantum physics. This decision means that all the SI units will now be defined in terms of constants that describe the natural world. These changes, which will come into effect on May 20 next year, will bring an end to the use of physical objects to define measurements. What a pain in the mass.
Formal Manchester United star Patrick Evra posts bizarre video of him doing strange things to a raw chicken
Patrice Evra, a French professional soccer player, has outdone himself and not in a great way. The day before Thanksgiving, Patrice posted the weirdest and perhaps most horrifying video to his Instagram that anyone has seen. He starts by kissing the raw meat, then licking it, then Salt Bae'ing it – before eventually ending the hideous clip by slapping the chicken. Patrice then posted to his Instagram story about the viral reaction to his video, which was possibly even weirder. Not only did he joke about salmonella sleeping with him that night, but he also wanted vegans to relax about the video as he doesn't complain that they eat grass and flowers. Lastly, he acknowledged that his video was a weird one. At least he knew.
This optical illusion is being used as a stress test but it's fake
This optical illusion has gone viral on social media for claiming to be able to tell how stressed the person looking at the photo is. Its caption claims that it was created by a Japanese neurology professor named Yamamoto who said the faster the image goes, the more stressed you are. Guess what? It's fake news. The illustration was created by Yurri Perepadia, a 50-year-old graphic designer and illustrator from Ukraine who told BuzzFeed that everything written in the caption is a lie. Perepadia told BuzzFeed News that he has seen the viral posts and has asked the posters to take down the images due to copyright infringement. While the illustration can't tell you anything about your wellbeing, it is still pretty darn cool.
People are shook at this iPhone keyboard trick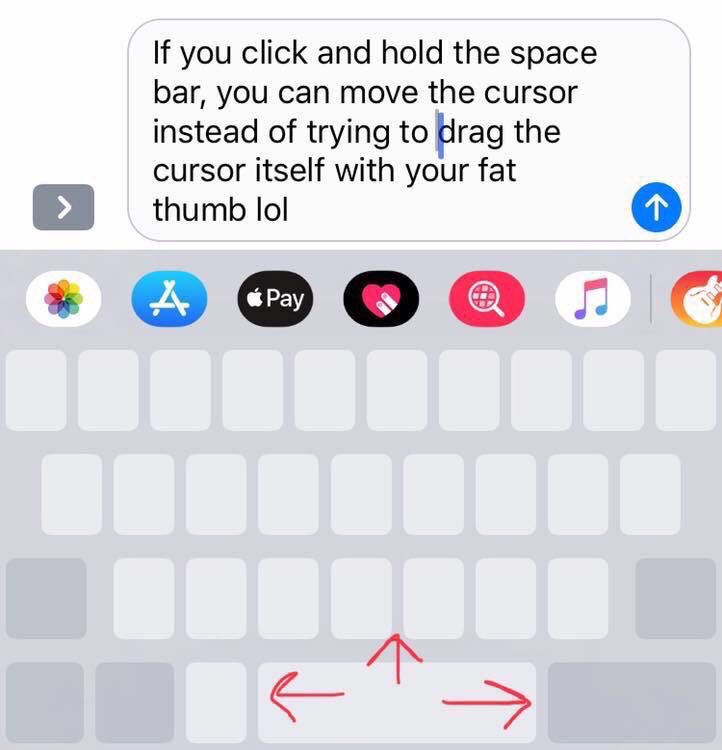 Atlanta food blogger Krissy Brierre-Davis was scrolling through Facebook on Sunday when she came across something astonishing. This life-changing screenshot makes clicking and holding on the iPhone keyboard a ton easier than moving the cursor. She shared her discovery in a tweet which soon went viral. While this feature has been around since at least 2015's iPhone 6s, when a hack this good comes around, it's like striking the lottery… and it actually works.