Check out the weekly buzz on our favourite social media platforms, including new features and what's trending!
4 New Social Updates
Snapchat introduces Snap Camera and brings lenses to desktop
This week, Snapchat announced Snap Camera, a desktop app that allows users to use Snapchat lenses on third-party live streaming apps and video chats. This app can be integrated with YouTube, Skype, Twitch, and Zoom. Snapchat has a huge community of lens creators who have submitted over 250,000 lenses so far through its Lens Studio tool and their lenses have been viewed over 15 billion times. Hence, Snapchat was looking for new places for them to be used. If you want to use Snap Camera, which is now available for Mac and Windows, you need to install the app and choose it as a camera output in the supported third-party app. You can search through the thousands of Snap lenses by using keywords and favourite ones you like. Also, you don't actually need a Snapchat account to use the app!
Facebook announces new ways to share and connect with music
Facebook has announced new ways for people to express themselves and share their love of music on Facebook – by launching Music on Facebook Stories, expanding Lip Sync Live, and very soon, will be making it possible to add songs to your Profile. According to Facebook, "the right words to fit your mood, feeling, or personality can be hard to find", so starting from this week, you'll be able to add a song to photos and videos you share to Facebook Stories. It will also be available to the News Feed too! Lip Sync Live has been rolled out to all profiles globally and it has also been gradually rolled out to Pages, as a way for artists and creators to connect with their fans. Due to people wanting to see the words to songs while lip syncing, Facebook is also rolling out lyrics for Lip Sync Live, with more available on a later date. Another exciting upcoming feature would be the ability to add songs to profiles with a new music section. Users can share what they are currently listening to, feature their all-time favourites and even pin a song to the top of their profile. Songs added to the profiles will also visually showcase the artist and track they choose and when someone plays a song on their profile, they will hear a clip of the song and see an accompanying video featuring photos of the artists and album art. They can choose to add the song to their own profile or visit the artist's Facebook page.
Facebook launched local news feature in 10 Australian cities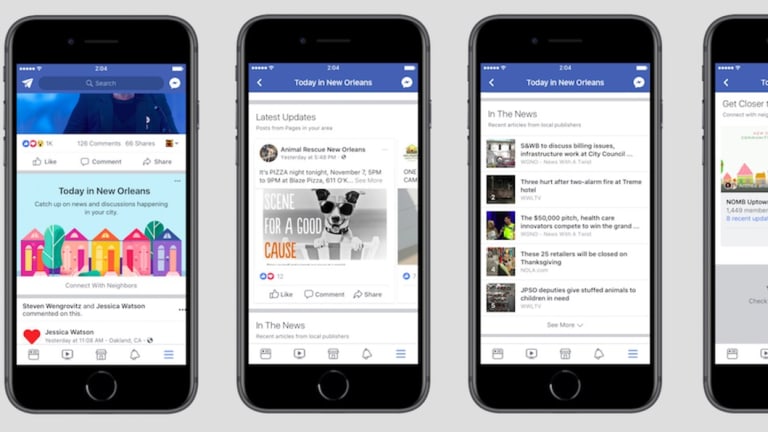 Australia is the second country globally to get a sneak peek of Facebook's local news and information feature, with users in 10 cities nationally from Hobart to Toowoomba to have access from Thursday. In this new feature, community updates, posts from local officials and weather updates will be included in the pages. The demand for local news and community information is especially high in Australia, hence this new addition will be useful to many Facebook users. For now, only 10 cities including Wollongong, Ballarat and Gold Coast are currently in beta testing as Facebook selected these areas based on where there were less than 500,000 active daily Facebook users and the availability of geographically-specific information. Other states and citities are expected to be included in future roll-outs, with this feature to be changed and updated during this initial test period.
LinkedIn Ads can now be tracked via Google Campaign Manager
LinkedIn announced a new integration with Google Campaign Manager, now part of Google Marketing Platform, that allows marketers to get attribution across all impressions and interactions, cross-device and cross-platform. With this new integration, LinkedIn now offers marketers the opportunity to see ad performance alongside the rest of their paid media spend. While LinkedIn has already offered this integration for a few select ad formats since early 2018, it now includes all Sponsored Content, which is an important step into fully understanding the buyer's journey, through the full path they take across different ads and websites.
4 Things Trending On Social
#FallingStars Challenge highlights extreme wealth
If you've seen influencers pretend-tumbling out with contents splayed all over the floor, it's probably part of the #FallingStars challenge, a meme that seems to have originated in Russia and has since taken off in China and the US. It's kind of planking, in the sense that the challenge requires participants to lie down on the floor, often with their belongings – shopping bags, wads of cash, balloon-animal versions of Karl Lagerfeld, Hermès handbags – splayed around them. The effect of these highly staged photos is supposed to be a very casual, "Oops, I fell and dropped my very expensive things on the ground, silly me!" Unlike other social media "challenges", #FallingStars is exclusive by design – I mean, it's a lot harder for a regular person to photograph themselves pretend-falling down the stairs of a private jet. This challenge is emblematic of a rise in luxury consumer culture and all about conspicuous consumption, with many debating if it's a harmless meme or a symbol of growing inequality.
The internet is losing it over this feral DIY makeup brush hack
DIY beauty hacks are great for makeup lovers all over the world and people love swapping tips and tricks on the internet. But sometimes, the internet also offers a platform for some really crazy, wild ideas. One such case is this truly horrendous DIY makeup brush tutorial on Twitter that has gone viral for all the wrong reasons. In the tutorial (if you can even call something so horrendous a tutorial), it was suggested that users cut off their OWN HAIR to make said brushes. Needless to say, this broke Twitter beauty users and it's safe to say every makeup lover out there would rather spend a few dollars on a makeup brush than have a huge chunk of their hair missing from their head.
Someone bought a very special toy crocodile at a zoo and it's now famous
Hiding in the depths of the Australia Zoo in Brisbane over the weekend was something that nobody had expected – this borked squeaky crocodile toy. Twitter user Ponah from Brisbane bought this absolute specimen on a trip to Australia Zoo on the weekend and has since named him 'Smegma'. They say that beauty lies in the eyes of the beholder, so somehow this derpy croc has managed to win the hearts of many on the internet. He even has fan art now! On another note, others on Twitter have managed to find their own warped toys and named theirs, while others have reportedly found Smegma's siblings and tweeting their finds. Ah, the internet never gets old.
A cat made a surprise appearance at a fashion show and people love it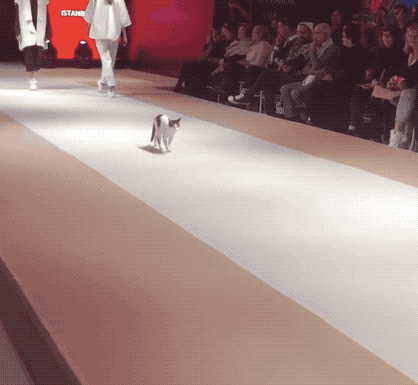 The latest star is this cat, who decided to take part in an annual fashion show organised by a fashion school in Istanbul. A designer watching the show took a video of the moment and it has been viewed hundreds of thousands of times by now. According to the designer, "the cat randomly walked in" and everyone was "very happy". The cat's moment of fame had been overwhelmingly positive and people thanked the organisers for not interfering or removing the cat from the stage. We're guessing there are no prizes for who had the best catwalk. 😸