Check out the weekly buzz on our favourite social media platforms, including new features and what's trending!
4 New Social Updates
Twttr is more popular than Twitter itself
Twitter's experimental app Twttr was launched a little over a month ago. The experimental app aims to test new features with regular users and these features may or may not make it to the main app. However, beta testers seem to be liking Twttr much more than Twitter, as it includes many of the new features that have rolled out to Twitter recently and other features that enhance the user experience for these users. If you're keen to try Twttr yourself, you can apply to join the program here.
Facebook announces new measures against problematic content on its platform
Since 2016, Facebook have used a strategy called "remove, reduce and inform" to manage problematic content across the Facebook family of apps, which includes removing content that violates policies, reducing the spread of problematic content and informing people with additional information so they can choose what to click, read or share. Now, Facebook is announcing several updates to improve this strategy. Among all the new updates, Facebook is rolling out a new section within its Community Standards site where the platform's users can track the updates made each month and launching a new Group Quality feature as part of the Safe Communities Initiative. To reduce misinformation, Facebook will also be reducing the reach of Facebook Groups that repeatedly share problematic content and incorporating a "Click-Gap" signal into News Feed ranking to make sure people see "less low-quality content in their News Feed." To inform people more effectively, Facebook is also expanding the News Feed Context Button to images that have been reviewed by its third-party fact-checkers.
Facebook adds 'inventory filter' to its brand safety controls for advertisers
As part of its continued efforts to stop brand ads from showing alongside "bad content", Facebook is adding an inventory filter to provide more control across different types of media. The inventory filter applies to all ads delivered within Instant Articles, Audience Network and Facebook in-stream video with three main options available, including limited, standard and full inventory. Depending on the inventory selection, ads will be shown within in-stream, Instant Articles or Audience Network web placements where there is no strong language (Limited), a few instances of strong language (Standard) or multiple instances of such language (Full).
LinkedIn is introducing reactions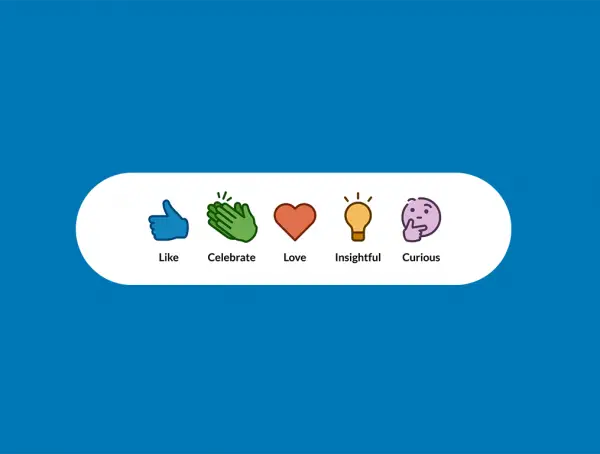 It was only a matter of time before LinkedIn caught on to the whole "reactions" feature. There are now five new ways to react to content you see in your LinkedIn feed. On top of the usual "Like", users will now be able to express how they feel with the new reactions, which includes Celebrate, Love, Insightful and Curious. However, LinkedIn refrained from adding any negative reactions, unlike the angry and sad reactions we see on Facebook. These reactions are rolling out today and will be available to all members worldwide in the coming months, on both the LinkedIn mobile app and the web.
4 Things Trending On Social
Beauty brand Lush quits social media because it's "tired of fighting with algorithms"
British cosmetic brand Lush announced that it will be quitting several social media platforms in the U.K. The company, best known for its colourful bath bombs and soaps, has amassed more than 570,000 Instagram, 200,000 Twitter and 400,000 Facebook followers. It has used its social media to promote its products, which are not tested on animals and use minimal packaging, and to advocate for environmental awareness. While the brand will be switching off its own social media presence, it doesn't mean that it won't have a presence on social media after all. Lush will still be conducting promotions with the help of targeted influencer collaborations, which may help Lush in brand. Lush might be the first brand to understand the power of social is not measured in performance KPIs, but in brand awareness.
Meet KFC's new virtual influencer Colonel
We've been through many iterations of the KFC colonel over the years, but the latest version might be the weirdest. Instead of hiring a famous celebrity to play the Colonel, the chain created a computer-generated "Instagram influencer", which the company has labelled as a 'Virtual Influencer Colonel'. Virtual influencers have been on the rise, with emerging cyber celebs like Lil Miquela, Shudu or Blowko. This realistically-looking 3D influencer sports an updated version of the Colonel's signature grey hair and horn-rimmed glasses look. The new Colonel pokes fun at influencer culture and he is clearly living his best life, at least the best that can be digitally rendered for him. Rather than advertising fried chicken, KFC's Instagram page has descended into a strange #ad state ads for chicken are disguised as ads for tax refunds. He's even collaborating with brands like Dr. Pepper and every post is an #ad for other products. He even has a media kit!
Notre Dame Cathedral fire triggers flood of memories on social media
The devasting fire that nearly destroyed the Notre Dame Cathedral on Monday triggered a flood of memories on social media from people around the world who have visited the cathedral. On Instagram, Facebook and Twitter, people posted photos of the iconic 13th Century house of worship on the Seine, sharing recollections of their visits.
What's going on with this intense real estate promo video?
Stop what you're doing and watch this real estate promotion video immediately. This video was created for a four-bedroom property listed in Padstow, Sydney, and is so mind-bogglingly ridiculous that it bent Australian social media in two upon viewing. Realtors at LJ Hooker Bankstown put together a truly outrageous effort and it elicited quite the response on Twitter. While people were horrifically intrigued by the video, most couldn't get over the dancers in the video and what the characters were doing. For instance, there were moments that viewers caught, such as how the bride was clearly a different woman when they danced past the giant wedding photo. While the original video has already been taken down, it is still being circulated around around thanks to the internet being the internet.