Check out the weekly buzz on our favourite social media platforms, including new features and what's trending!
4 New Social Updates
Here's how to see what Instagram thinks you are interested in
Did you know you could see what Instagram thinks you're interested in? It turns out Instagram assembles a list of all the things, people and interests that it thinks you like. Here's the big catch: it "thinks" you like. While this feature isn't really new, it's back in the spotlight after a journalist named Eric Ginsburg tweeted about it. People over the world started sharing theirs and the tweet soon went viral. Instagram gets this data from your activity on Instagram and also Facebook, or even third-party apps and websites you've logged into through Facebook. At the end of the day, the ads you see can always be influenced by your online activity.
Facebook's new cryptocurrency

Facebook is working on a cryptocurrency, codenamed Libra. While it has been a rumour so far, there have been reports of a likely launch on June 18. This new cryptocurrency will be what's called a stablecoin. Compared to the volatility you might expect from 'regular' cryptocurrencies, stablecoins are pegged to actual currencies like the U.S. dollar to protect against price fluctuations. As for how might one might use Facebook's cryptocurrency, users who send money via Messenger or WhatsApp may incur zero fees. Read more here.
Snapchat brings native checkout feature to five influencers
Snapchat is going full-on e-commerce. The platform is bringing a new native checkout feature to five influencers on the app – Kylie Jenner, Kim Kardashian West, Shay Mitchell, Spencer Pratt and Bhad Bhabie. Through this feature, users can buy items from their brands – Kylie Cosmetics, KKW Beauty, Béis, Pratt Daddy Crystals, and BHAD Goods. As part of the test, the influencers themselves keep all the revenue, however, merchants don't get their hands on customer data if nobody buys something. This move is one of the ways for influencers to see Snapchat as a sales channel beyond their Instagram profiles.
Facebook collected device data on 187,000 users using banned snooping ad
Facebook obtained personal and sensitive data on about 187,000 users of its now-defunct Research app, which Apple banned earlier this year after the app violated its rules. These "research" apps relied on willing participants to download the app from outside the app store and use the Apple-issued developer certificates to install the apps, which would then install a root network certificate, allowing the app the collect all the data out of the device for competitive analysis.  
4 Things Trending On Social
Kylie Jenner faces backlash for Handmaid's Tale themed party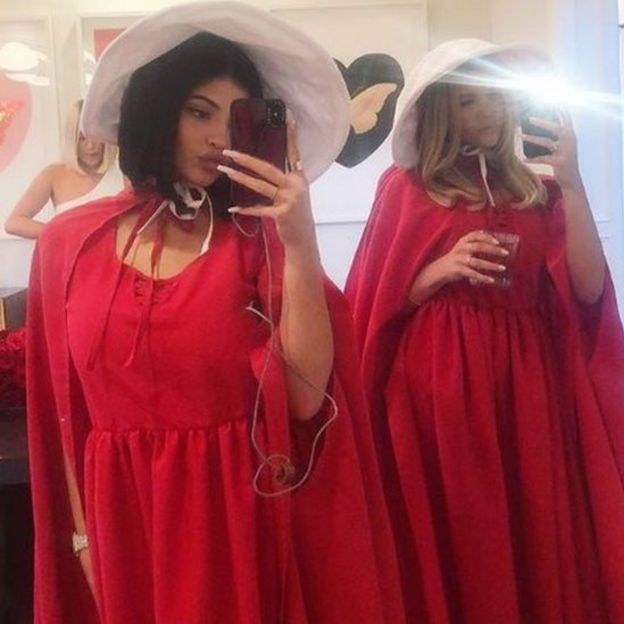 Kylie Jenner has come under fire recently after a Handmaid's Tale themed party she threw for her friend last weekend. Kylie posted videos and pictures of her party in the distinct red robes and white bonnets worn by handmaids, oppressed female characters in the dystopian novel. The internet was unimpressed by the party's "distasteful theme", as the Handmaid's Tale tells the story of a patriarchal United States, where fertile women are subjected to a life of sexual servitude by the authoritarian government named Gilead.
A male student used Snapchat's gender filter to pose as an underage girl online and allegedly caught a cop
A California college student used Snapchat's gender-swapping filter to pose as an underage girl online in order to catch sexual predators – leading to the arrest of a 40-year-old police officer. The arrested officer allegedly chatted about sexual activity with the fake profile despite being told "she" was underage. The police department referred to the person who created the profile only as a "concerned citizen", who was inspired to purposefully pose as an underage girl online after learning that a close friend had been molested as a child.
A flood of Instagram tourists has forced an Australian city to spend $400k on a public toilet
This is a perfect example of how social media directly affects society. A city in Australia has decided to drop major funds on a public toilet specifically for Instagrammers. This famous Blue Boat Shed, located just off the Swan River in Perth, has been a prime spot for many Instagrammer users to get the perfect photo. The only downfall of this picturesque spot is that it has no public bathrooms, with the nearest one 1.5 miles away. As a result, the Perth City Council has opted to create a stand-alone, solar-powered toilet to accommodate the new tourist spot, for a modest price of $401,280 AUD. Oh yes, there's also a $20,000 AUD maintenance fee yearly. The city hopes that the new toilet will help minimise "verbal abuse and vandalism" that's been reported to the council as a result of Instagrammers using the restrooms of nearby restaurants.
Infowars agree to pay Pepe the frog creator $21,584 after lawsuit
Far-right conspiracy theory website Infowars has agreed to compensate Pepe creator Matt Furie for using an image of Pepe in a poster they sold online. The poster, sold for USD$17.76, depicted Pepe alongside prominent alt-right figures like Milo Yiannopolous and Donald Trump. Furie's creation left his control and took a new life of its own as a symbol associated with the far-right and white supremacy, something with Furie has been working hard to fight against. Infowars has agreed to pay Furie the USD$14,000 in profits they made from the poster and a further USD$1,000 that would be donated to Save the Frogs, a frog-centric charity.