Check out the weekly buzz on our favourite social media platforms, including new features and what's trending!
4 New Social Updates
Facebook launches 'Showcase', a new premium ad program
As Facebook's video ecosystem grows further, Facebook wants to give online video and TV ad buyers who buy upfront airtime the opportunity to reach their audience in its "highest-quality" videos. Facebook Showcase is now available for campaigns that target US audiences and includes In-Stream Reserve, In-Stream Reserve Categories and Sponsorships. Showcase helps advertisers connect with people through premium content and unique video experiences, including reaching younger-skewing audiences that are increasingly difficult to reach on TV. It is also easy to plan, buy and measure video ad campaigns targeted at audiences ages 18+, using the same processes that premium video and TV ad buyers are familiar with.
Instagram may soon allow you to make your collections public
According to reports, Instagram is working on a feature that allows users to make Collections public. Collections, which was launched in 2017, is a small but important feature that gave users the ability to save posts in private collections, simply by tapping and holding the bookmark icon underneath any post. It is quite similar to Pinterest's boards. Up until now, Instagram collections were private but it seems that it is about to change.
Facebook 'clear history' feature is coming soon
Facebook's 'clear history' feature will launch later this year. This feature is "a simple control to clear your browsing history on Facebook – what you've clicked on, websites you've visited, and so on." The ability to control what Facebook shares about you with other sites, as well as being able to see what apps and websites you've interacted with using your Facebook account, is a feature that many users have been asking for, especially in light of several high profile privacy controversies surrounding Facebook recently. While the 'clear history' feature will be welcomed by users and privacy advocates, it will have implications on what adverts are shown to you. With Facebook unable to use data collected by third parties, it could struggle to target relevant ads.
Twitter brings reverse-chronological feed option to Lite, Twitter for Windows and its mobile site
After testing the ability for users to switch between "top tweets" and a reverse-chronological timeline of "latest tweets" last year, Twitter brought the feature to iOS first in December and then in Android in January. The "sprinkle button" found within the mobile apps allows users to toggle which view of Tweets they want to be able to see at any time. Following this expansion, the feature has now been launched across all of Twitter's apps and web versions. At the same time, it is also removing the settings option released in September that allowed users to fully opt out of "top tweets". This feature is personalised, so as one uses it, the better Twitter will learn their preferences and will automatically select their favourite mode by default, despite reverting to the algorithmic timeline sometimes.
4 Things Trending On Social
'Fake A Plane Ride Challenge' goes viral in China
If you can't travel, fake it until you make it. In recent weeks, a Chinese hashtag that roughly translates to "how to pretend you're on a plane" challenge has been trending on Weibo, a Twitter-like social platform popular in China. The craze has allegedly racked up over 27 million views. To execute this challenge, social media users begin by playing film footage of sweeping aerial views of the earth, akin to a view one would see from a plane window, edged in full by a plastic, oval-shaped frame. Slowly panning the camera out, pranksters reveal the supposedly gorgeous views to be nothing more than footage played from a smartphone, and the plane window frame to be the handle of cleaning products – or even a toilet seat. This challenge is said to have taken off during Lunar New Year, after billions of trips were made across the country.
The world is going gaga over Lady Gaga & Bradley Cooper's Oscar performance
Ever since A Star Is Born, the internet has been obsessed with the combination of Lady Gaga and Bradley Cooper. Their huge smash-hit song "Shallow" has won the Best Original Song at this year's Academy Awards. Gaga and Cooper's live performance felt almost like a prelude to something even more romantic. It's almost like an onstage recreation of the movie – Gaga and Cooper are all over each other in this performance. Needless the say, the internet is reacting to the video and can't get over how good it was (think hair-raising goosebumps). Catch it here.
Melbourne Hero delays myki inspection by finishing her 20-minute meditation
Not all heroes wear capes and in some instances, all they had to do was meditate. There are few experiences more quintessentially "Melbourne" than facing ticket inspectors on the tram, but one woman has taken the art of dodging them to a new level: she simply ignored a ticket inspector's existence until she could finish her meditation session. Steph Athanasopoulous was approached by a Yarra Trams ticket inspector while commuting to the Greek consulate on Monday morning and instead of handing over her Myki to verify she had 'touched on' to pay for her trip, she chose to carry on with the final six minutes of her 20-minute silent meditation. She was initially optimistic that she wouldn't be interrupted but the inspector grew increasingly frustrated, the last straw being Athanasopoulous telling the inspector to return in six minutes. The inspector threatened to call the police if she refused to comply and when Athanasopoulos eventually presented her Myki, it resulted in an all-clear from the inspector.
A fat German rat got stuck in a sewer grate and the photos are just perfect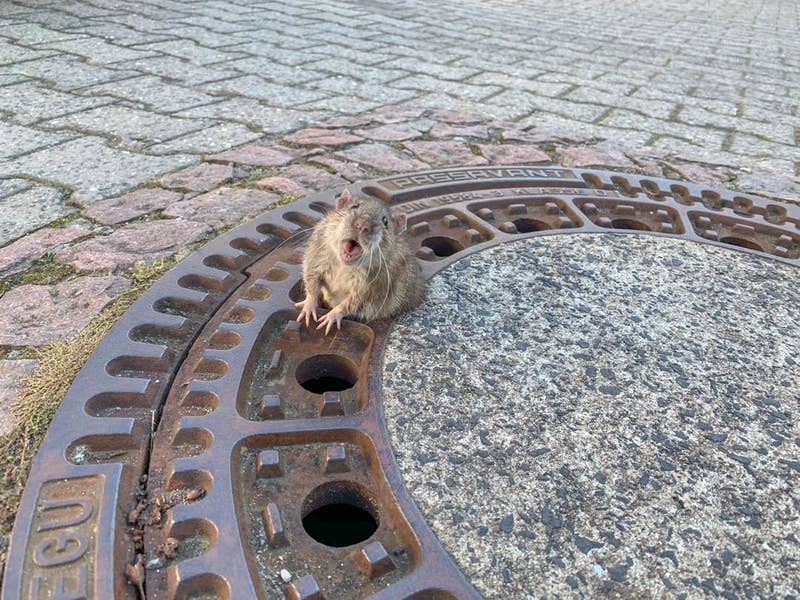 A whole team of firefighters came to rescue this chubby rat that got itself caught in a sewer gate in Germany. The local animal rescue organisation were unable to free her, so they called in the big guns. According to one animal rescuer, this rotund rat "had a lot of winter flab and was stuck fast at her hip". The team was able to prop up the grate, get a rescue loop around the rat, and eventually free her from her predicament. The whole thing was caught on camera and it's really something to behold. If it isn't one of the most heartwarming things you'd watch this week.